How Many Miles to Rotate Your Tires?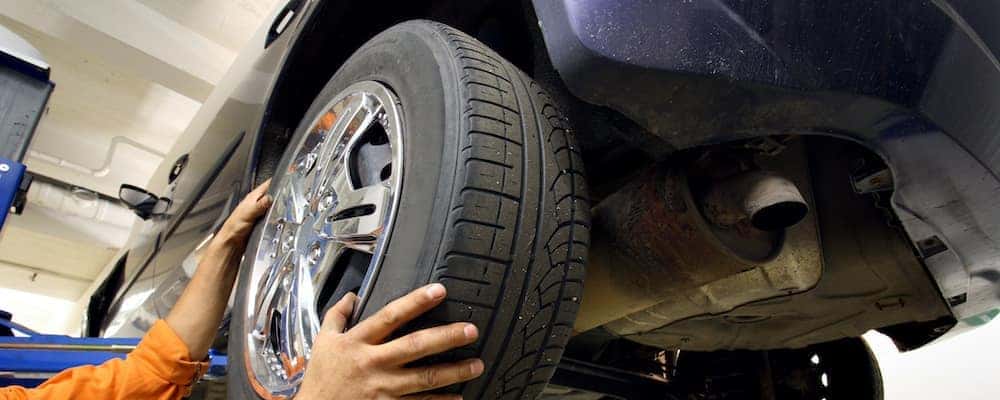 ---
You already know you'll have to replace your car's tires as they wear, but you may be asking yourself, "How many miles until I need to rotate my tires?" In general, rotating the tires on your FWD vehicle every 5,000 to 7,000 miles helps you stretch their life as long as possible, although several other variables will impact the exact figure for your vehicle. If you perform activities with your vehicle that causes extensive tire tread depth wear you will have to replace your tires sooner. However, rotating your tires often will extend tire lifespan to get the most for your money. If you have the necessary equipment, you can rotate your tires at home. Alternatively, many Coweta County drivers trust local service center experts like the team Scott Evans Chrysler Dodge Jeep Ram for tire rotations. Read on for more info on when to rotate your tires.
Why Tire Rotation is Important
No matter what kind of driving you do, your car's tires won't wear evenly. For example, turning corners causes more wear on the tire's outer edges, which can negatively impact traction as you navigate Douglas County routes. If you don't rotate your tires, not only will you be less safe, but the wear will be exacerbated — which means you'll need to replace your tires much sooner. By keeping track of your car's tire wear, you'll maximize driving safety and save money on new tires.
When to Rotate Your Tires
All-wheel drive vehicles require rotation more frequently than cars with FWD or RWD. Check your owner's manual to see if your car's manufacturer has more specific recommendations for how many miles to rotate tires. The general recommendations for drivetrain options are as
follows:
Front-Wheel Drive — Rotate FWD tires every 5,000 to 7,000 miles.
Rear-Wheel Drive — Rotate RWD tires every 5,000 to 7,000 miles.
All-Wheel Drive — With all tires actively engaged, wearing happens more quickly. Experts recommend rotating AWD tires every 3,000 to 5,000 miles.
Warning Signs You Need to Rotate Your Tires
Look out for these three signs that your tires need a rotation:
Uneven wear — Check for uneven wear between the front tires compared to the back tires. However, uneven wear throughout the tread pattern of one tire isn't a sign you need a rotation. Keep in mind that if a front tire has an irregular wear pattern where one side has less tread than another, it may be too worn to rotate. You can rotate it if the wear is mild, but a severely worn tire should be changed out for a new one.
Vehicle vibration — If your car seems to vibrate at speeds above 45 mph, the cause could be uneven tire wear. Keep in mind that vehicle imbalance can have other causes, but you should definitely check your tires for wear or have an expert help you determine what you need to do next.
Pressure loss — If you keep tabs on your tire pressure and notice that one tire is losing air slightly faster than the rest, that tire may be under more pressure than the others. If that's the case, it's a safe choice to schedule service with a technician to find out if the tires need rotating or repair, or if there's another issue.
Learn More About Tire Rotation for Your Vehicle with Scott Evans Chrysler Dodge Jeep Ram!
Reach out to the Scott Evans Chrysler Dodge Jeep Ram service center, or set up service with our convenient online scheduler. Check out the Scott Evans Chrysler Dodge Jeep Ram blog for more info on tire rotation and other maintenance topics, including oil changes or interpreting the check engine light on your Ram 1500. Our team of expert technicians is happy to help you troubleshoot when to rotate your tires or any other vehicle issues, or to chat about exciting interior and exterior upgrades for your vehicle. We hope to see you soon!