How Much Does the 2019 RAM 1500 Weigh?
As Truck Trend's 2019 Pickup of the Year, the 2019 RAM 1500 has already made a big impact on the auto industry. And with the RAM 1500 weight starting at a whopping 4,798 pounds, this dynamic truck has some serious weight to throw around on the road. Find out how this model's epic proportions translate into incredible capabilities with the folks at Scott Evans Chrysler Dodge Jeep Ram!
RAM 1500 Weight Range
The RAM 1500 has a weight range that starts at 4,798 pounds for more compact configurations and up to 5,372 pounds in larger sizes. That means you'll have plenty of heft to tow bulky equipment and heavy-duty cargo, but you'll still have the agility and maneuverability of a typical light-duty truck. Additionally, the Gross Vehicle Weight Rating clocks in between 6,800 and 7,100 pounds – so you won't feel limited when you need to hook up a trailer.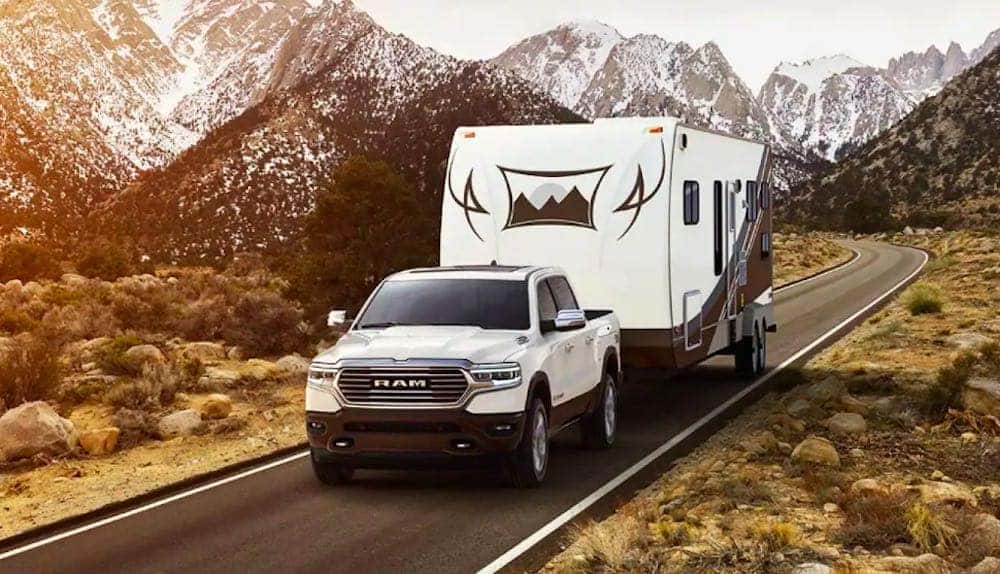 RAM 1500 Specs
You know the RAM 1500 weight, but how does that affect its performance? The RAM 1500 is crafted from 98% high-strength steel to enhance its rigidity and durability, which also translates to higher towing figures. Under the hood, you'll find three different engine options to power your next adventure. The standard 3.6L Pentastar V6 engine uses technology like wide-range variable valve timing to generate up to 305 hp and 269 lb-ft of torque. Additionally, the available 5.7L V8 produces 395 hp and 410 lb-ft of torque, and a version with eTorque technology boosts towing capacity even further with state-of-the-art engineering.
RAM 1500 Towing Capacity
We've talked about the RAM 1500 weight and RAM 1500 specs, so let's see how these factors affect towing capacity. If you're in the market for a pickup that has serious power behind the wheel, then the 2019 RAM 1500 is the perfect choice:
3.6L V6: Maximum towing capacity clocks out at 7,730 pounds.
5.7L V8: This V8 can tow up to 11,610 pounds in total.
5.7L V8 with eTorque: With a 12,750-pound max, this engine delivers best-in-class V8 towing.
Try the RAM 1500 in Person!
You've read the RAM 1500 specs, but why not experience its mighty power for yourself? Head to Scott Evans Chrysler Dodge Jeep Ram to get behind the wheel with a test drive. Our experts can introduce you to the entire RAM 1500 lineup, so stop by today!
More About the 2019 RAM 1500